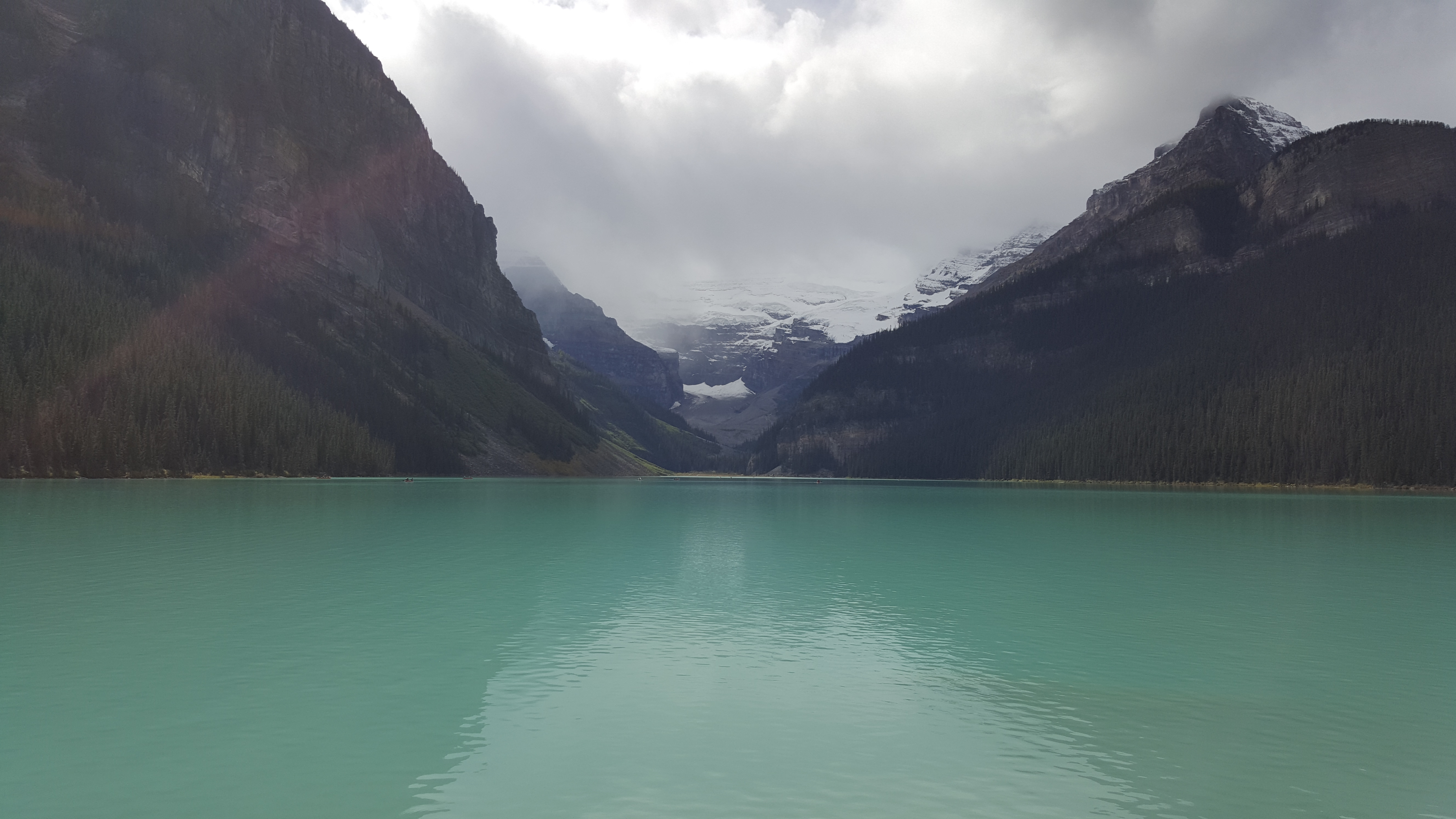 Today Road Trip Itinerary:
Moraine Lake
Lake Louise
Fairmont Hot spring
Bye glacier! The cold of the glacier is penetrating into the van, and I feel like naked. I touch the crystal clear river water, and it is freezing cold. My figures turn red very soon.
It is best to run away as soon as possible to kiss the sun instead of snow, so we drive to Banff National Park to see the world famous lake, Lake Louise, and the nearby lake, Moraine Lake, here in Canada. Moraine Lake is 14 kilometres (8.7 miles) southeast of the hamlet of Lake Louise, so it is our first spot to drop by. Moraine Lake is glacier fed, and the water color is turquoise. The blue-green colour is a result of light refracting off the fine particles of rock in the glacier run-off which flows into the lake. We just stop by for awhile to take a few pictures.
We then drive to Lake Louise, the jaw-dropping world heritage. This lake is famous for its turquoise water, the Victoria Glacier, and soaring mountain backdrop. The combinations of them make a magnificent and unreal portrait of the nature. The below photo is just taken from my cellphone without any Photoshop or modifications, and I am truly amazed by the beauty of the lake.
We stay only 15 minutes for the lake and then rush to Fairmont Hot Spring. There are some strange and unusual noises from the van on our way, and therefore we stop and look into the issue before getting on the highway. We find that one of the front wheels is not tightly screwed. I am not sure what to do and understand the severity at that moment so I keep silent and wait for Dennis to fix it. We talk more when we arrive at Fairmont and he explains to me l that if one of the wheel falls off on highway, we will die for sure. Well…I become speechless and then we close the day by having pizza and spending time with his family.