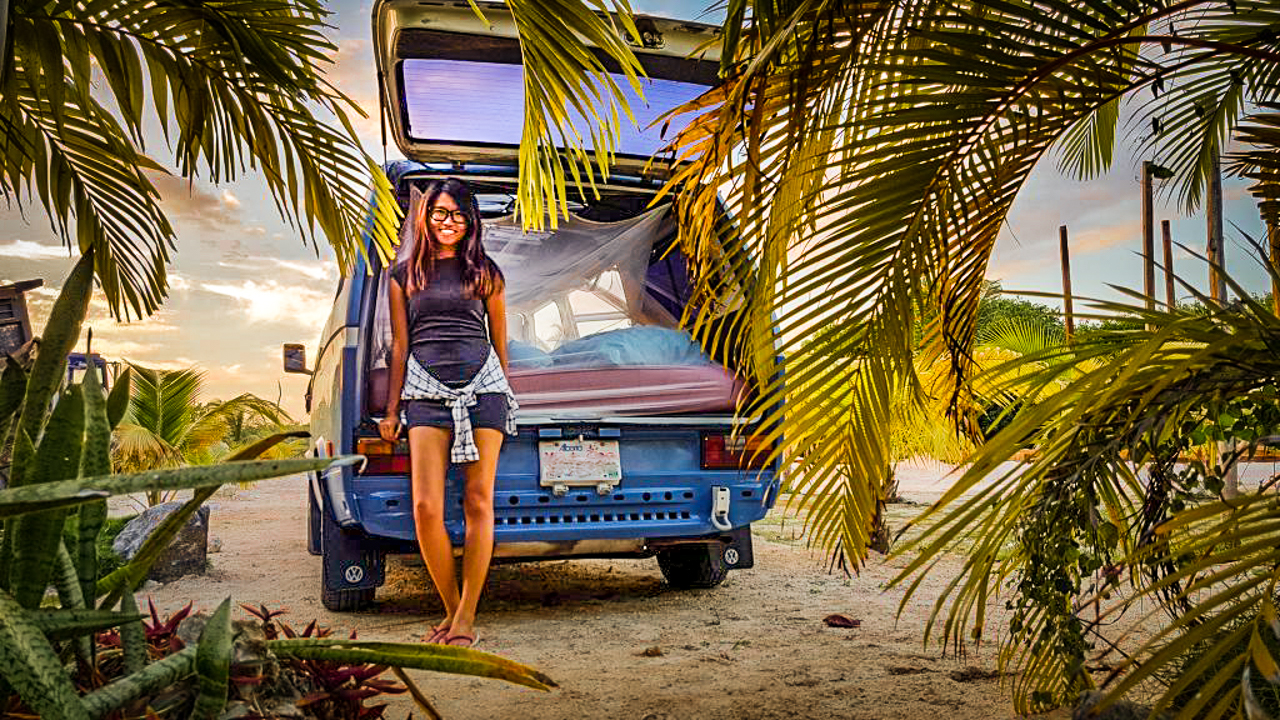 Eat Play Travel LOVE is about the enjoyment of life. LOVE can be full of enjoyment. In this post I want to share our LOVE and enjoyment between us and our VW. It may sound like a funny thing, this love between an owner and a VW but its something that only a VW owner will be able to understand.
I say love and it is mostly love but at times there can be some the other thing. Classic VW are just that….classic. They are old, they have character, and sometimes character breaks down.
Our vw van is an 1984 vanagon which has been in the family since 2003. Much work has been done on the van over the years and recently when Sarah came to Canada from Hong Kong, I decided to show her some sights. Not only the magnificent Rockies of Banff and Jasper but a few other sights which turned into our 16,000km trip. She didn't know it at the time but she would eventually find out what it means to love a vw.
Things don't last forever and in an old van replacements are just a matter of time. Most recently before our trip, we had the wheel bearings repacked and I replaced the radiator. This took us up a few steep hills in the mountains so the radiator worked well and things were going well until the front wheel bolts became loose and we almost lost the wheel near Lake Louise. It may sound like paranoia, but now when ever someone works on the wheels, I always get the tire iron out and double check. I became so 'cautious' that I found myself checking the bolts about every 3000km. Not likely that the usual new car driver even things about these types of things.
We made it out to Vancouver but after going down a really steep hill on a hot day Oosoyoos we knew we had to replace a few brake parts when we reached Vancouver so the ordering began. We were held up at Dr Bob's in Ft. Langley for a couple weeks where the fun began. We replaced the fuel tank for good measures since there was some thick rust on the sides. We also put on some new front brake callipers along with the rotors and pads. It ended up being quite the exercise given that the rotors have the bearings pressed into them. It was a long process but must have been done right since they are still holding up after our adventure. The love we put into the van is of course returned in all the smile and laughs we have along the way, and Sarah was starting to learn vw love.
With these things replaced we did some touring around Vancouver and Victoria and then headed south. Things were running really smooth until waking up in a Walmart parking lot and seeing a big puddle under the rear left side of the van. As it turns out it was brake fluid which is used to run the hydraulic clutch. There is a slave cylinder there so we went to Utah imports and the mechanic there was a vw guru. From listing to a few of his stories he experienced over the past few decades we knew that he had the love of a vw owner. He pointed out that we might have a problem with the over sized fuel filter that I put in on the upside of the pump but said if it has not caused problems yet then don't worry. He quickly replaced the cylinder and we were on our way. We met up with Peter and Martina in Utah. While on the bumpy roads through the monument valley we noticed that the front end of the van, meaning the upper ball joints were really loose. Not something that can be tightened! We knew that it was not a show stopper so we put it on the memory todo list for our next work to be done. There is always love to be shown.
Our journey continued and we didn't have any problems until a 35 degree day in northern Mexico. We had been on the road for a few hours and slowed down to go through Ciudad Obregon and as we went to leave the vans love decided to run out. It decided to turn off. Dead. Now what? We waited for an hour for things to cool down and the van eventually started again. We decided to get a hotel for the night. While wondering what it could be I recalled the talk about the potential problem with the fuel filter. With limited options at hand I figured why not…lets do some work! Now Obregon is not the nicest place in Mexico, every street seemed to be under repair and dirt in the air, yes dirt and not just dust. Sarah the super duper hotel booker choose a place right across the street from a car shop which had tool and of course our VW van key chain which we just had to have. At 9pm at night by the light of the street light in the parking lot, I squeezed, cut, chopped, sliced, screwed, pulled, pushed and enjoyed the smell of fuel as it covered my arms until I moved the fuel filter to the push side of the pump. As it turns out if a canister fuel filter is on the pull side of the pump, there is a potential that an air gap can form after time and can be expedited when temperatures rise. I can only assume that this was the problem since we carried on and didn't have a problem like this again during our trip. Adding a little more love to our van in the dusty dirty HOT town of Obregon got us through a bit more together and allowed us another story and I think by now Sarah had secretly decided she would show the love for 'our' van but unlikely she would get one of her own;)
The roads in Sonora and Sinaloa are 60/40. 60 bumps and potholes, 40 new concrete.
The 60 is fun if you treat it like a video game dodging and swerving down the highway but hit that one 60 in the wrong way and WHOOHOO everything flies off the dash. Yes it happened a few time even as good of a video game player as I am. Our van still showed us love, although things did seem to continue to get bouncier and bouncier. Hmmm, I wonder how the shocks and bushings are holding up!
Continuing on south, the van performed wonderfully. We kept the fuel tank full and the petal going. There were a few times however between Mazatlán and Puerto Vallarta where we really struggled to get out of 4th gear when we slowed down for the toll roads. I wondered what this could be. Given that it didn't happen that frequently, I didn't think too much about it and we kept the move on. We headed inland from PV through Salulita and towards Mexico City. Through Salulita and 1 night stop in Morelia brought the awareness of the ball joints back into focus for us. Many of their streets in the Zocalo of town cobble stone. It rattled the van but not much we could do about it now.
We finally reached our destination of Mexico City. It was time to rent an apartment and show the van some love. We ordered shocks and front end bushing and had them replaced. Wow what a difference. It was amazing. The stats say that the standard shock absorber is good for 5 years. Hmmm, after 34 years I am sure they might be worn out. Being in Mexico city we soon realize that we were in the VW Combi mother land. The interesting thing is that in Mexico they never had the 80's vanagon version of the van. They skipped them completely and manufactured the 70's air cooled version until the early 90's. There were many owners and vw's in this city. I am sure they owners loved their vw's as much as ours. I have never seen so much diversity in colors, quality, shape, dents, scratches, customisation and overall differences of a single model of vehicle. Every time we went out our heads turned and phone camera clicked, simply amazing. The ones here are but a few.
We spent 2 months living in Mexico City. So many things to see and do. What an amazing city. Not only because of all the vans;) but all the history. We didn't drive too much during this time as there was lots of traffic and driving the van we loved in the big city was not as fun as on the open road cross country. In December we decided that we would like to continue our road trip and do a quick loop around the Yucatan. Sarah has made many posts of this trip. In preparation for this I decided to show some more love and see if we could address the problem getting out of 4th gear. We ordered a couple parts to address the linkage of the gear shift into the transmission. It took quite a long time to receive the parts. These parts need to be ordered from USA since the parts are hard if not impossible to get for this type of van in Mexico. We replaced the parts and got ready for our next day's departure.
Packed, checked out and ready to go we set of early on new years eve. Our destination for the day was vera cruz. Getting on to the highway and shifting into 3rd gear we hear a big grind. YIKES. What's going on van, where's the love? Could it be that the transmission is toast! We made our way back to Marcos' shop where we talked to him about it. After a few words, we decided to risk it and took off again. Imagine leaving on new years eve, for a 4000km trip knowing that your transmission could crap out at any moment!
As it turned out we did over 4000km around the Yucatan and never had a problem other than lots of grinding in to 3rd gear. I did however get pretty good at finding the right rpm and could even shift into 3rd without the clutch. When returning back to Coyoacan where we were staying in Mexico city we looked to Marco to replace the transmission. We left the van with him and flew out two days later. The first one he tried didn't work and 3 and 4th gear were bad. He had it replaced again and it seemed to work but was difficult to shift gears. It was getting to one of those moments in the owner/vw relationship where the love was still there but there were parts of the van I really didn't like…transmission! We had left Mexico and had arranged with Colin and Natasha stone the global adventurers to fly down and drive the van back to Canada. They were quite excited and it was also great given that it would have saved a few km of driving from our side. Unfortunately, the second transmission took quite some time to get delivered and installed so much so that when Colin and Natasha arrived to Marcos shop, it had not even been delivered. They rented a car and got to do some driving around Mexico for a couple weeks so not all was lost and they got to see parts of Mexico that were much different than the typical tourist spots.
I had booked a flight back to Mexico City to pickup the van since it was reaching the 6 month period in which an outside vehicle can remain in the country. People thought I was crazy. All that for a 30 year old van. "Just leave it" They would say, "Buy another one" they would say…."They" were obviously not VW owners. I flew down, said hi to people and left the next day. I drove 2800 in 7 days to Denver Colorado.
Now that Sarah has had an outstanding road trip in a vw, she understands a new love!