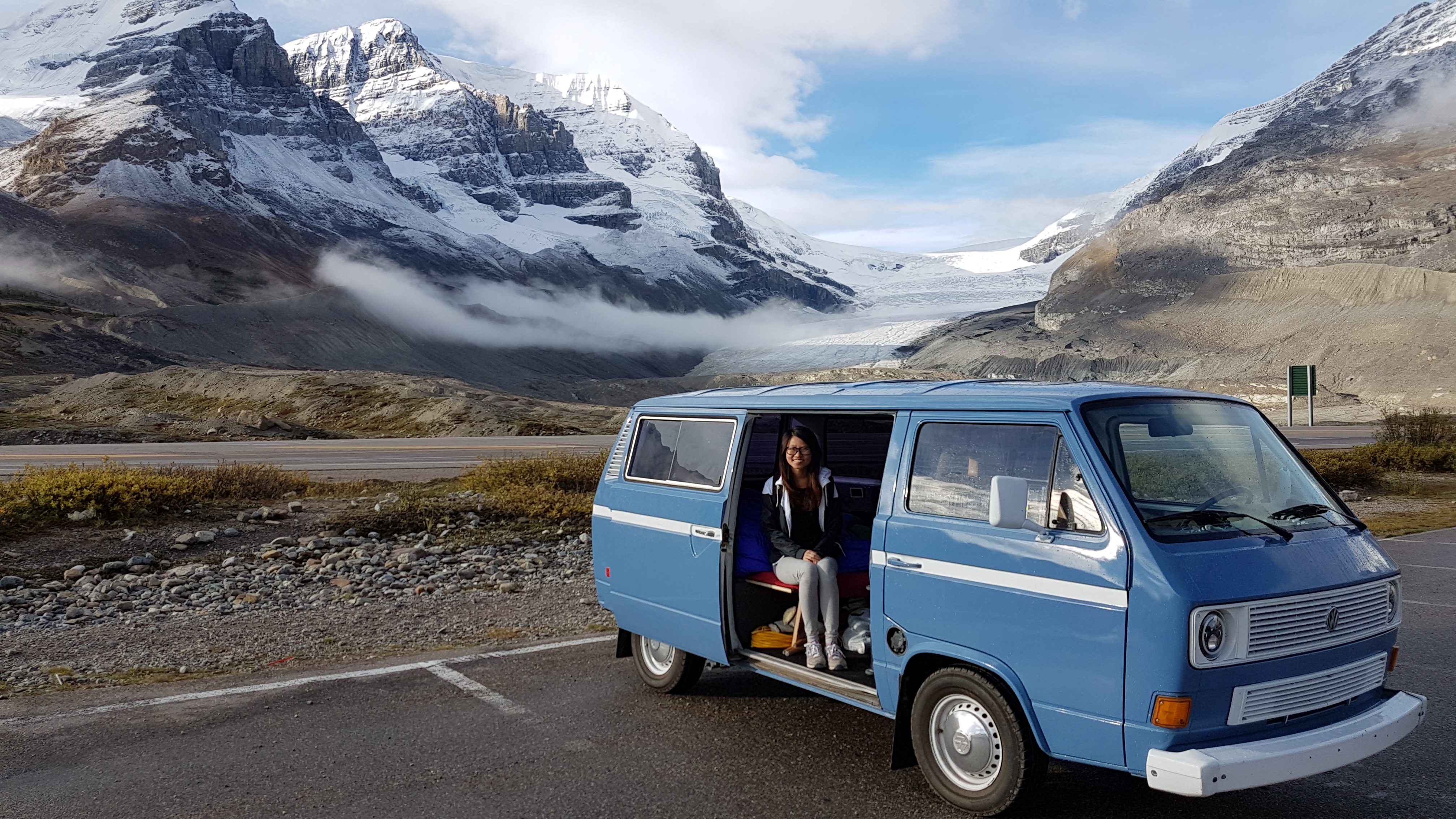 Today Road Trip Itinerary:
The Columbia Icefield
Horseshoe Lake
Maligne Lake
Jasper Downtown
Whistler Campground
A good morning waking up somewhere near the glacier is way too cool as well as cold. Because of no shower the day before, I have an urge to find a washroom to wash my face and brush my teeth and Dennis needs a coffee to start the day. We then drive to The Columbia Icefield Discovery Centre cafeteria to have our breakfast. The Columbia Icefield is the largest ice field in the Rocky Mountains of North America and it is also one of the most accessible expanses of glacial ice in North America. I am not sure I have seen anything as magnificent as this glacier before and the view is quite a luxury to people living in a city which has never snowed. A cup of hot tea is definitely worth it. By the way, there are a lot of Chinese eating instant cup noodles next to me.
We then drive towards Jasper Downtown, and on our way, we stop by Horseshoe Lake. Green and crystal clear water. This is well known for its crystal clear reflection of mineral-rich colorful cliff onto its turquoise emerald water surface. Many people do cliff jumping and diving here in the summer. From what I have seen, I think it is still dangerous.
We find this squirrel busy eating. He/She ignores my request of sharing and hence we get to go to find our own food.
We have our lunch at Jasper Downtown to get enough energy for the sightseeing in the afternoon. All the 1-2 storey flats are nicely decorated full of characters. When you look up, you can see the Rockies and Glacier as the background. It is a mix of modern and nature. What a view!
48 miles away from Jasper Downtown, we are at Maligne Lake, which is known for its azure-blue water, and Spirit Island, photographers' paradise. We are having a few checkpoints to run today so we simply pass by instead of taking boat ride down to Spirit Island.
The next stop we are going is Maligne Canyon, which is cover 50 meters deep and is still whittled away by the mighty underground water originating at Magline Lake through Medicine Lake. We walk around to look at a number of viewpoints, and you can find waterfalls, fossils, potholes, underground stream outlets, the nests of ravens and rare black swifts, unexpectedly lush plant life there. The one we like the one is waterfall! You will be amazed by the power of water and its latent erosive power.
We head back to Whistler campground for the night after a few beers in Jasper downtown. Finally there is a place for us to shower but the water flow and the cleanliness of the bathroom is not up to standard. Luckily, we are surrounded by beautiful Coast Mountains and we can sleep under the stars in pine scented air.
Hong Kong is known for her light pollution while the campground in Canada is normally without or with just a few lights, and hence it takes time for me to adapt to the complete darkness. I try my very best not to go to the washroom at midnight, but you know, you cannot control no.1. I end up get lost on my way back to the van. I guess Dennis knows that I am a bit clumsy sometimes so he wake up and looks for me, otherwise I need to sleep in the wild with bears…