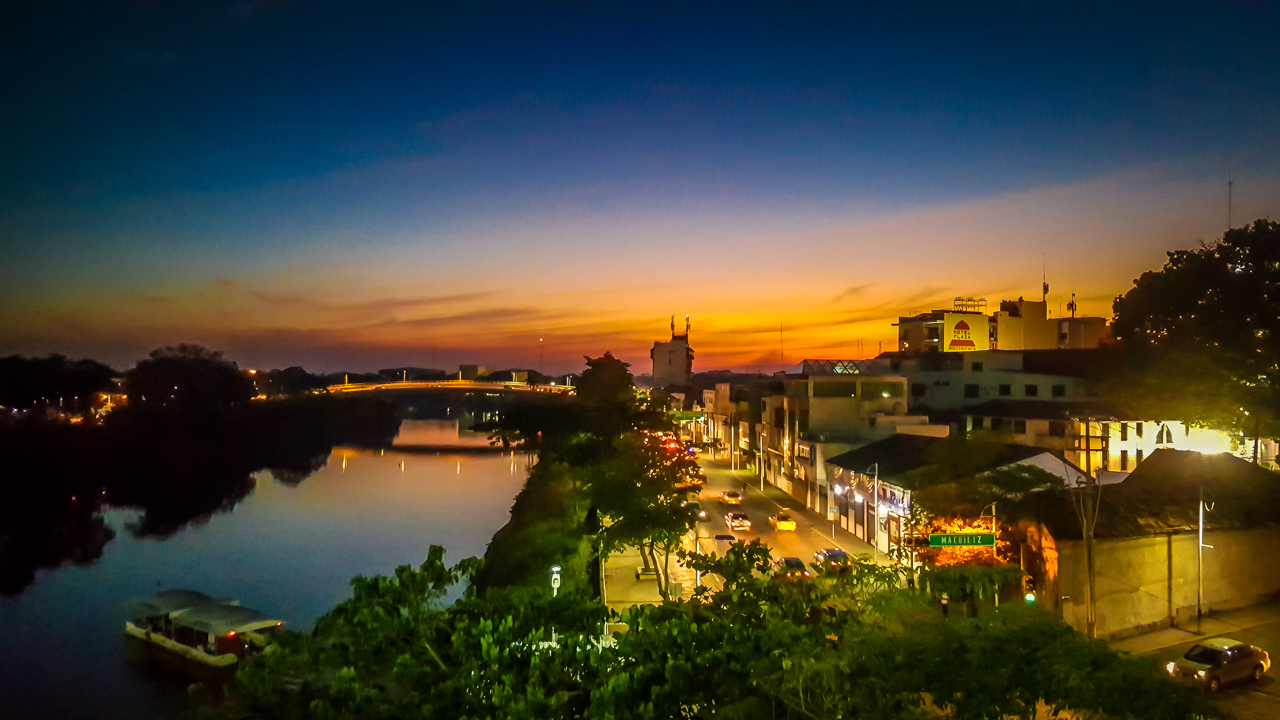 Villahermosa is the capital city of the state of Tabasco, and it is regarded as the major city on the southeast side of Mexico, right between Mexico City and Cancun. This city is rich in oil so it is very industrialized and commercialized. Tourism is not remarkable here, and hence we simply stayed indoor to get enough rest for the road trip.
Villahermosa Accommodation
Hotel Olmeca Plaza: It is a four stars hotel in term of Mexico standard. It is located at the center of Villahermosa with busy streets. We found it quite strange that there is no alcohol sold in convenient stores nearby. There were a lot of police vehicles parking outside the hotel because there was a police conference held in the hotel. We would say that we felt safe to certain extend. (Well, you never know how the police work here.) Overall, we were not overly impressed by the room, the services, and the bed, the soundproofing except for the pricey marble and the toilet wall.
Hyatt Regency Villahermosa: It only costs around USD50 per night for a five stars hotel, so why not giving it a go! The services provided were really great, but not our neighbor or the soundproofing. It happened that there was an event on the 2nd floor and we were on the 3rd floor. The whole night was a nightmare with a lot of noises. The couple next door was having a loud fight constantly shouting and crying. The security guard came to knock on their doors a few times and it basically woke us up the whole night. At 6 am, the lady knocked on our door to ask for our breakfast choice. How could we possibly rest while we required energy to drive for the road trip? After our polite request and explanation of our situation, we were given a free breakfast and a free extra night on the 8th floor. We were very content with the compensation.
Things to do in Villahermosa
Cheapest Tacos: When we stayed at Hotel Olmeca Plaza, we walked around the center of Villahermosa, and found the cheapest tacos restaurant we have ever seen in Mexico. It was just around 5 pesos/each. However, there were no beers sold in those restaurants and it definitely put us off.
Plaza de Armas: There was an open plaza for you to walk around. Honestly, nothing special to us. We did not go to any museum and special places but just wandered.
Liverpool: There is a huge shopping mall there, which is a good place for you to finally connecting to the rest of the world. To me, it is critical because we could get a very reasonably priced and delicious Chinese food. I could not live without rice for a long time. It cost around 75 pesos for 3 dishes and a fried rice. The deal was way better than I could possibly get in Hong Kong.