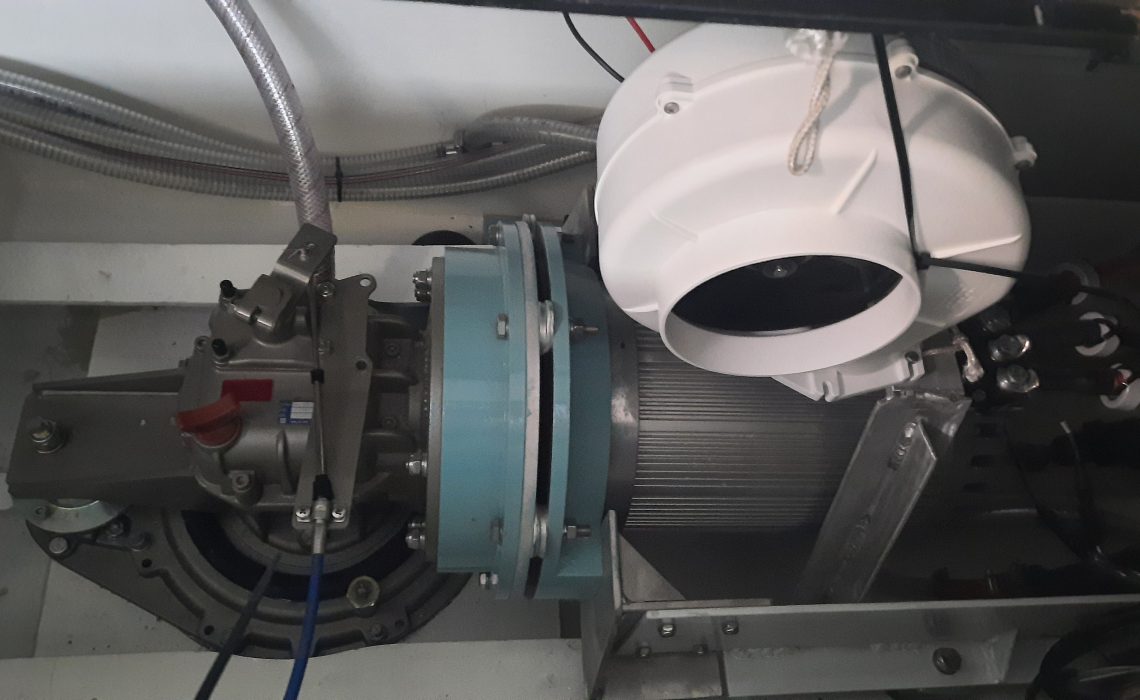 Propulsion for INDININI involves the saildrive, electric motor, motor controller, battery management system (BMS), batteries, 110/220v charger, solar charge controller and solar panels.
Saildrive – The design for INDININI from Marc Lombard called for a saildrive. After some research and availability options, we settled on the ZF SD12.
Motor – The Netgain Hyper9 motor uses Synchronous Reluctance Internal Permanent Magnet (SRIPM) platform that delivers outstanding torque and efficiency, generating higher power per pound than any other motor in its class
Motor controller – Converts the DC current into AC for the motor. The X1 controller is known for its large number of options that control the motor. Things such as RPM limits, torque curves and how the throttle reacts are just a few.
BMS – The dilithium solution is comprised of a main bms control unit with the ability to add a second to increase the monitoring for more cells. It is powered by 12v and connects to the display unit and charger via can bus.
Batteries – there are a total of 60 x 200ah LifePo4 batteries that make up the storage for the motor. They are configured in 2p 30s.
60 batteries x 200ah x 3.2v = 38,400kwh
Charger – This is a CAN enabled EV charger that can fill up the batteries from shore power being 110 or 220v.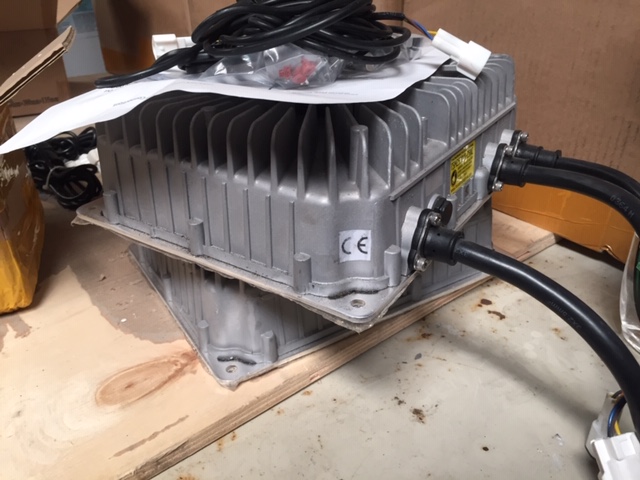 Solar charge controller – A 96v charge controller is not a common device. Make sky blue started making this and now promotes it on their website. This one has been running since mid 2021 and has not yet failed. We have a new version backup on board in the event there is a problem, or when we get a new set of panels to aid in the charging.
Solar panels – INDININI has a total of 2kw of solar panels. They are configured as follows…
2 x 200 watt panels connected to a charge controller that is dedicated to the house battery.
2 x sets of 800w. Each set consists of 4 panels. These 2 sets can be switched into parallel or series depending on the battery that is being charged.
The 24v house battery requires the 2 sets to be placed in parallel which will set the voltage to approximately 80v. This is done to keep the voltage under 100v for the Charge controller.
When charging the motor battery, the 2 sets are put into series bumping up the voltage to 160 volts to charge the 96v motor battery.